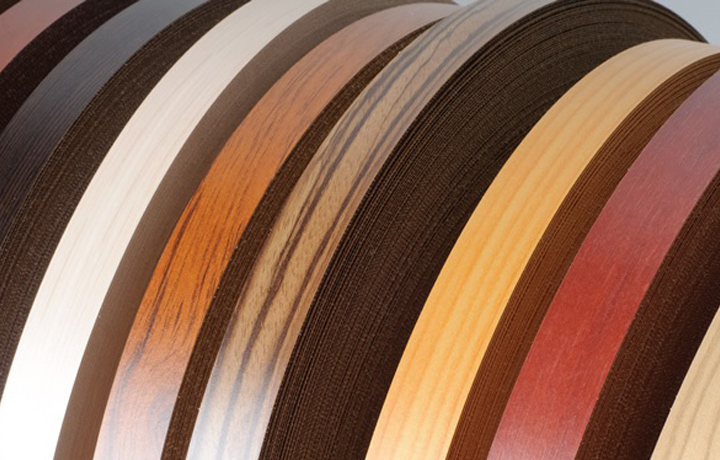 Furniture edges
Furniture edges are an indispensable element in interior finishing. The edgings available from Bomar combine the aesthetics and easy processing. High resistance to mechanical damage, temperature and UV rays of these furniture edges make this product extremely versatile. Their flexibility and ease of processing make them ideal for banding straight and curved surfaces. A wide selection of decors allows for an ingenious finish of the furniture by matching it with the front or body. You may also obtain a contrast effect.
Technical Data
The product is made in accordance with the ZN – 4 standard: 2005.
PRODUCT
APPLICATION
SEMI-FINISHED PRODUCTS
SURFACE FINISH
CONFECTION
PRODUCT PARAMETERS
Standard edging without glue and with hot melt glue applied
Banding straight edges

Chipboard,

MDF, HDF and other wood-based semi-products

Lacquer finish

Standard gloss 200 G (at an angle of 600)

Surface structures

(mechanical pores):
Smooth (symbol G)
Wood-like (symbol D

In rolls:
standard width: 18, 19, 20, 21, 22, 23, 25, 26, 28, 32, 40, 49 mm.
Other dimensions possible on request. Roll length:
without glue 400 m,
with glue 200 m. Number and weight of the edge in a box:
without glue, approx. 120 m2, 40 kg;
with glue approx. 60 m2, 30 kg
Thickness: approx. 0.3 mm

Hygiene class E-1

Chemical resistance: surface resistant to chemicals and water vapour according to PN-D-97017

and DIN 68861
part 1B to 1D

Storage: in original packaging for up to six months

Soft edging
Bonding curved edges (soft-forming)
Increased flexibility for wrapping profiles
'Blind' edging
Covering straight invisible edges
Surface without lacquer coating
Thickness 0.2-0.3mm
Packing
PACKING AND WEIGHT OF EDGE BANDS
TYPE
CARTON QUANTITY [M2]
CARTON WEIGHT [KG]
with glue*
60
~30
without glue
120
~38
* minimum order quantity – two cartons
Approvals
The laminated boards offered by BOMAR have all the required certificates and declarations. They also have a hygienic certificate confirming that they can be safely used in the production of furniture and for the purposes of interior design, in rooms where food is stored, processed or consumed.