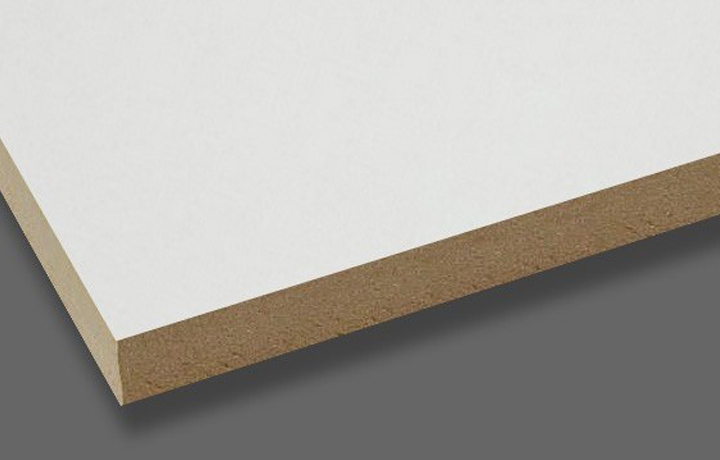 Laminated MDF Boards
Laminated MDF boards are available in two versions:
– STANDARD, which is a double-sided laminated board, intended for further formatting and finishing the edges.
– PLUS, which is a one-sided laminated board. Its second plane is designed for deep milling, and the increased density allows for a perfect surface finish for further refinement.
– Laminated MDF boards are mainly used for the production of furniture fronts. Due to the availability of boards with increased resistance to moisture, they are ideal as a semi-finished product for bathroom furniture.
Technical Data
Properties
Unit
Requirements
Test according to the standard
Thickness
mm
< 20
> 20
PN-EN 14323
Thickness tolerance
mm
± 0,3
± 0,5
PN-EN 14323
Length and width tolerance
mm
± 0,5
PN-EN 14323
Flatness
mm/m
≤ 2 only for flat surfaces
PN-EN 14323
Surface defects
mm/m
spot ≤ 2 in length ≤ 20
PN-EN 14323
Formaldehyde content Class E1
mg/m3
≥ 0,124
PN-EN 717-1
Mechanical and chemical resistance
Scratch resistance
N
≥ 1,5
PN-EN 14323
Crack resistance (24h at 700 C)
degree of change
≥ 3
PN-EN 14323
Water vapour resistance
degree of change
≥ 3
PN-EN 14323
Stain resistance
degree of change
≥ 3
PN-EN 14323
* other parameters are in accordance with the parameters for the base board
Packing
STANDARD SIZE – 2800 x 2070
THICKNESS
[mm]
PIECES IN A PALETTE
PALLETS PER TRUCK
8
50
10
10
50
10
12
40
9
16
EX,K
30
10
18
EX,K
25
10
19
EX,K
25
10
22
20
11
25
20
9
28
20
8
30
20
8
K – bulk-breaking only decor 110 SM, 5 pcs. (mix)
EX – express only decor 110 SM